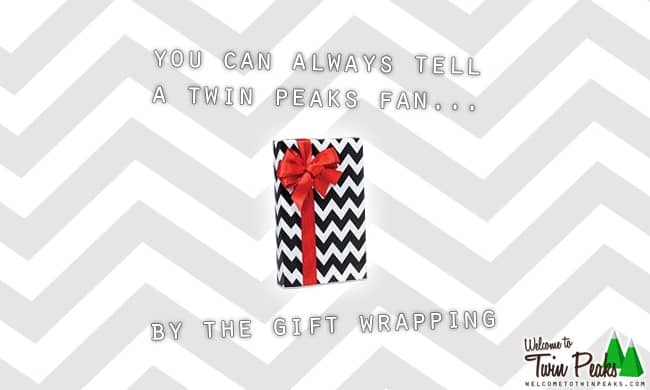 You can always tell Twin Peaks fans by the way they wrap their gifts.
Since wrapping them in plastic defeats the purpose, we're talking about gift wrap paper with the Black Lodge floor pattern.
Sure, Amazon sells black and white chevron gift wrap, but you can just as well print your own! Suzie, "The Background Lady" from Ottawa, shared several zig zag patterns for you to download for free and print at home. Included in the ZIP file are two high-quality PDFs with bleeds (if you do not require bleeds, just select "Fit to page" when printing). The first one is the 11×17″ Black Lodge gift wrapping paper for small to medium-sized gifts, the other PDF is 8.5×11″ paper which is perfect for home printers and suitable to wrap something small, like the Twin Peaks soundtrack. Each size comes in four different color combinations.
DIY Twin Peaks/Black Lodge chevron gift wrap
Download Black Lodge wrapping paper.