"Leo needs a new pair of shoes!"
—Leo Johnson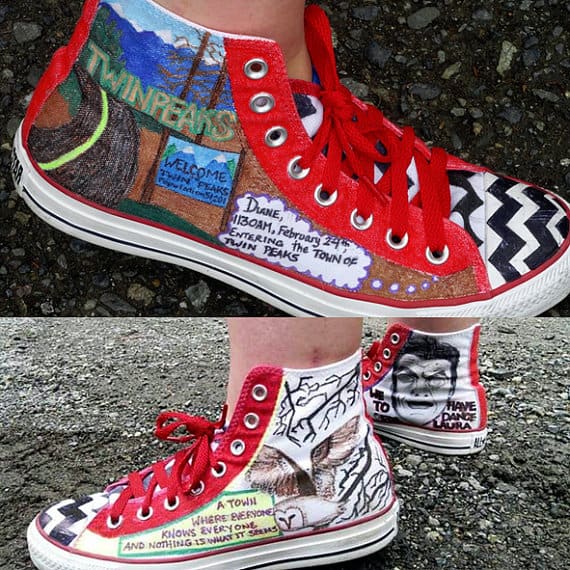 When the photo of a pair of custom Twin Peaks Converse All Stars appeared on the Welcome to Twin Peaks Facebook page, dozens of fans wanted to know right away where they could buy a pair of the Twin Peaks shoes customized (and proudly worn at the 2013 Twin Peaks Festival) by Jenny Machen. So Jenny decided to set up shop and she's now selling her lovingly handcrafted High Top Chuck Taylors.
"It was awesome to see the reaction to something that I made out of pure geekery for Twin Peaks. I have decided that due to the high-ish demand for the shoes I would list them for sale as a custom order through Etsy," Jenny wrote to Welcome to Twin Peaks.
The Twin Peaks-inspired Converse All Stars incorporate various references to the show including Killer BOB and Leland Palmer, The Black Lodge's zigzag floor, owls and the woods, and several classic quotes. But if you would like your Chucks to have different quotes, a slice of cherry pie and some damn good coffee, just let Jenny know and she'll customize her design to your taste. Each pair is made to order and requires about 10 hours of work, setting you back $129 (about €99). Hand painted with fabric ink and sealed with waterproof silicon, you can wear these sneakers without worrying  about damage to the design, or simply display them as a piece of art.
» Order Jenny Machen's custom Twin Peaks Converse Chuck Taylor All Stars here.
Have you ever customized any of your clothes with Twin Peaks references?
DID YOU KNOW? In the spring of 2009, Nike released a "Twin Peaks" edition of their Nike SB Dunk High Premium kicks. You can still snag them from eBay.