It is with great sadness I write that Julee Cruise has passed away on June 9, 2022. She was 65. And one in a million.
Moving near the edge at night
Dust is dancing in the space
A dog and bird are far away
The sun comes up and down each day
Light and shadow change the walls
Halley's comet's come and gone
The things I touch are made of stone
Falling through this night alone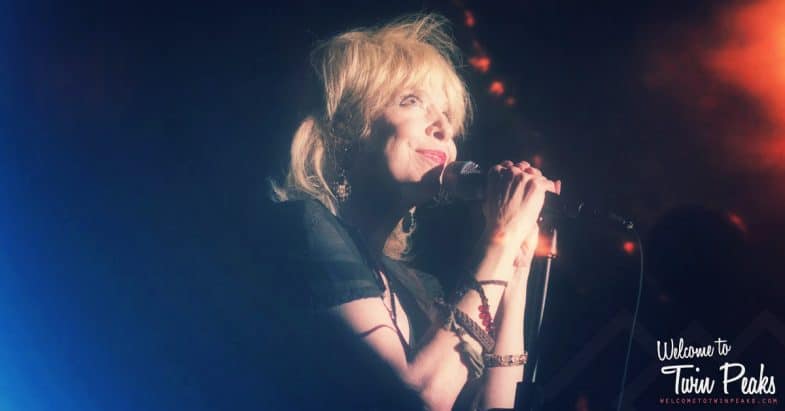 Her husband, editor and author Edward Grinnan, reported her passing to a B-52's fan group on Facebook with the following message:
For those of you who go back, I thought you might want to know that I said goodbye to my wife, Julee Cruise, today. She left this realm on her own terms. No regrets. She is at peace. Having had such a varied music career she often said that the time she spent as a B filling in for Cindy while she was having a family was the happiest time of her performing life. She will be forever grateful to them. When she first stepped up to the mic with Fred and Kate she said it was like joining the Beatles. She will love them always and never forget their travels together around the world. I played her Roam during her transition. Now she will roam forever. Rest In Peace, my love, and love to you all.
In 2018, the performer told her fans on Facebook that she suffered chronic pain from systemic lupus.
Julee Cruise performing Falling at Top Of The Pops on 22/11/90
Julee Cruise started working with David Lynch and Angelo Badalamenti on Blue Velvet's Mysteries of Love and became the enigmatic Roadhouse singer in the first two seasons of Twin Peaks, eventually taking the stage again in the recent 2017 season. She's also known for touring with the B-52's as Cindy Wilson's touring stand-in, performing with Bobby McFerrin's improvisational vocal group Voicestra/CircleSong, as well as collaborations with Deee-Lite's Supa DJ Dmitry, Pharrell And Handsome Boy Modeling School, Moby, and many more.
I am thankful my last interaction with Julee happened only 3 weeks ago. In response to her message, I wrote "#juleecruisemusic all day long." Well, Julee, forget that. #JuleeCruiseMusic for life!