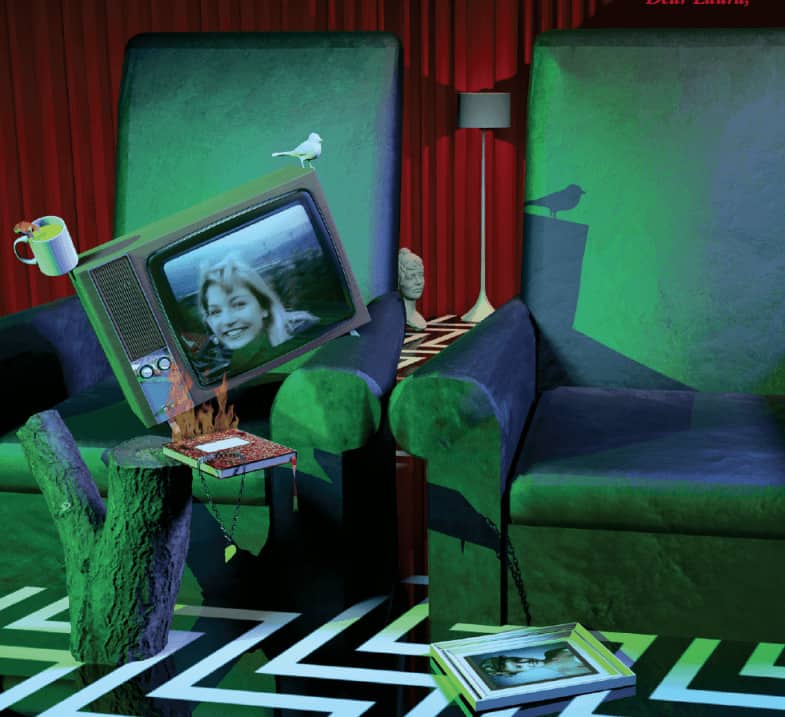 From time to time, Bullett asks actors to reconnect with an important character from their past. For their 2012 Winter Surreal issue, the magazine asked Sheryl Lee to make contact with the ghost of the late Laura Palmer. And so she did, with this hauntingly beautiful poem:
Dear Laura,
Laura, Laura, Laura
A ghost of me, you are
For one who did not want to live
You are never very far
As a soul lost deep in trouble
You gave my art a name
But if I did it all again
I might not do it
Quite the same
Pulled down from heavens' ethers
You arrived to share my life
I instilled your death with purpose
Before you left me with your knife
I take it out from time to time
Run my fingers down the smooth blade
Is my destiny the same as yours
Or do I
Just
Simply
Fade?
My dear, sweet Laura
My doorway into death
Alive and yet not living
In this play
I am your guest
I offered my whole self
In honor of your life
And in exchange
Was tricked quite well
When you rewrote my rights
Fair, you say
Do I not agree?
Your fame
After all
Did rub off on me
It's not what I wanted though
Had I known
I just longed for a place
And a space
Of my own
But you, my friend
Had different plans for my life
You stepped in out of nowhere
And won't leave others' sight
I sit alone now
On this journey of ours
Caught somewhere between
My earth
And your stars
—Sheryl Lee, 2012.
Wow. There's that.
Take a minute to let this sink in.
And then there is Sheryl Lee's very openhearted entry from her personal diary, written in the early '90s just after the young actress finished filming Twin Peaks: Fire Walk with Me.
Where do I begin? It has been a little over a month since we stopped filming. In a way, it seems like years and in another, only yesterday. As I sit down now to write this, so many emotions arise. The gift and the experience that you gave me are beyond expression of words. I am aware that your death also allowed an old part of myself to finally die… a very self-destructive part. Through you, I came face-to-face with my own dark side. I feel as if I have lived a whole lifetime in those two short months of filming. I will never forget how, the week after we finished, I suddenly became aware that my thoughts were my own again. My mind and my life had been completely occupied by you. You came to me morning, noon, and night—especially night. That was your time, the darkness of midnight. You continually wove your spirit into my dream world, revealing bits and pieces of yourself, myself, and our fears and struggles. The thing I remember most about you, though, Laura, is your loneliness. That loneliness haunted me. Walking back into my empty hotel room by myself each day, left to deal with the fragmented pieces of my own life, your loneliness would still fill my room. My prayer is that you are now someplace where you are truly loved and at peaceful rest.
Much love and gratitude,
Me
Truly surreal, right? It's almost as if Sheryl Lee was a host to Laura Palmer like Leland was to BOB.
Thank you so much for sharing, Sheryl.