Last night at the 11th Annual Governors Awards ceremony in Los Angeles, David Lynch was at long last honored by the Academy of Motion Picture Arts and Sciences for his achievements in film. The event marked the director's first Oscar win following four nominations over an equal number of decades.
After being accompanied to the stage by his son Riley to join Blue Velvet co-stars Laura Dern, Isabella Rossellini and Kyle MacLachlan, who just before shared several anecdotes about working with the filmmaker, the clearly touched honoree's acceptance speech turned out to be shorter than some fans had hoped for. It seemed shorter than the round of applause he got. In fact, it was so short one could be surprised he didn't just stick to…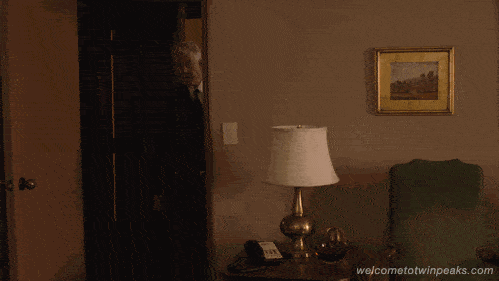 Watch David Lynch's Academy Award Acceptance Speech (10/27/19)
"To the Academy of Motion Picture Arts & Sciences, thank you for this honor, and to all the people who helped me along the road. Congratulations to all the other honorees tonight. And everyone, have a great night. [Briefly looking at the golden statuette] You have a very interesting face. Good night!" —David Lynch
UPDATE: Several readers have pointed out that Lynch paraphrased a line from one of his favorite films, Stanley Kubrick's 1962 Lolita. The actual line spoken by Clare Quilty (Peter Sellers) is 'You have a most interesting face. Good night.'
"You have a most interesting face. Good night."
—Clare Quilty in Stanley Kubrick's Lolita, one of David Lynch's favorite films. pic.twitter.com/AeWQ2tt6ud

— Twin Peaks ???? (@ThatsOurWaldo) October 29, 2019
In the video you can also spot David Lynch's wife Emily, his daughters Lula (with Air-Pillow silicone earplugs, I bet) and Jennifer, his son Riley, and Hollywood icons Leonardo DiCaprio and Quentin Tarantino (who notoriously hated Twin Peaks: Fire Walk with Me back when it came out but went on to mimic one of its scenes for his Pulp Fiction poster).
Watch Isabella Rossellini Honoring David Lynch (10/27/19)
"David's muse is mystery."

—Isabella Rossellini at the Governors Awards.
Watch Laura Dern and Kyle MacLachlan honoring David Lynch (10/27/19)
Behind the scenes of the Governors Awards 2019 with Laura Dern, Isabella Rossellini, Kyle MacLachlan, and the Lynch family.
So happy for our buddy, Dave! #OSCAR #bluevelvet #ampas pic.twitter.com/Cfds7pG8x2

— Kyle MacLachlan (@Kyle_MacLachlan) October 28, 2019
https://www.instagram.com/p/B4I9dMYlr5n/
https://www.instagram.com/p/B4KtxIHl91A/
https://www.instagram.com/p/B4m4YpzpijA/
https://www.instagram.com/p/B4NoiT1piBV/
https://www.instagram.com/p/B4KumFfhhRt/
https://www.instagram.com/p/B4NU8deADCX/