Richard Austin, a Primary School head teacher in England, has been a Twin Peaks fan since the series first aired on the BBC. He also happens to love writing haiku poems. So when he combined both passions, one Twin Peaks haiku turned into two, two turned into one for every day of the month, and at that point, Richard challenged himself to record one Twin Peaks haiku, every day for the entire year. Now that his personal "What the Haiku!" challenge has been successfully completed, let's look back at 365 Twin Peaks haiku.
"Every haiku was recorded on the day, none in advance or afterwards," Richard tells Welcome to Twin Peaks. "That way it would be a clear record of where I was and how life was going throughout the year. If I was on holiday, I recorded the haiku wherever I was; if I was ill, I did it with the sniffles. I even did one at the hospital the day my daughter was born."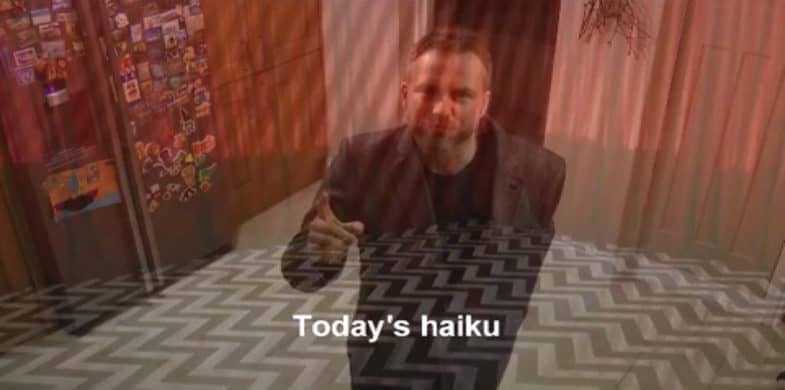 Most of the haiku are just single ones, but some are two or three and sometimes Richard would get carried away and write longer 'sequences'. "The longest I think was a 20 haiku sequence about Bobby Briggs. I was so proud that one of these sequences, which was about the little boy being run over in Season 3, was chosen for display in the gallery section of the Twin Peaks UK Festival last year."
In terms of inspiration, Richard used just about every piece of Twin Peaks lore there is. "I went from the original series, through Fire Walk With Me, on to The Return, taking in Laura's diary, Mark Frost's books, Dale Cooper's tapes and the Access Guide. I took inspiration from The Missing Pieces and even from deleted scenes I found described in John Thorne's Wrapped in Plastic guide."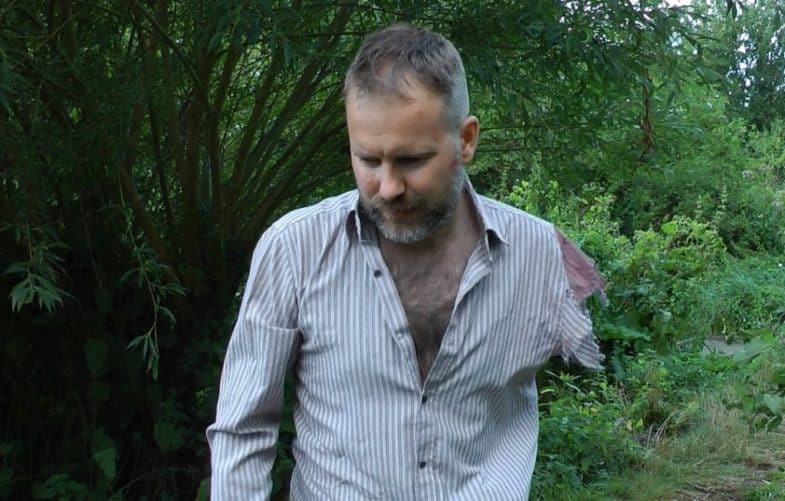 In the 365 videos are references to just about every character, every famous scene, all the way from the bird on the branch at the beginning of the title sequence to the flashing electricity at the end of each episode.
You can find all of Richard's haiku on his YouTube channel, but Welcome to Twin Peaks asked the author to select his 10 favorites. Here they are, along with some context, in no particular order.
I got lots of strange looks from people walking their dogs in Crane Park as I walked and talked backwards in a suit on a very cold winter morning. I took quite a few takes as I kept walking into the bush on my way back. I have so much respect for the actors on the show who have to learn their lines backwards. It's so difficult to memorise the pronunciation because it's so alien. That's why I often end up looking off camera.
The baguette scene is one of my favourites from the original series, so I wanted to try and recreate it. I also love a big sandwich so this was a challenge I was well up for taking on.
This was done very late on Christmas Eve. The mood took me and I wanted to something longer to delve into the sad story of Philip Jeffries. I even tried to do the accent.
My son was often part of the haiku videos. We made this one in Crane Park at my favourite tree; our own personal Jack Rabbit's Palace
I was just playing around in the living room for this video as my wife was out for the evening. I used my daughter's rattle to make the sounds and had great fun playing with the video effects afterwards.
I was so lucky that Dana Ashbrook agreed to do this with me. He was probably knackered. I just feel bad because I was so nervous and I didn't want to keep him too long so I barely let him get a word in.
I was starting to get a little better with the backwards talking when I recorded this. I bought a jacket from the charity shop to try and look like the one armed man. This was one of my favourite poems too as it looked at the nature of Leland's complicity in Bob's actions. One thing I really enjoyed about writing the poems is that they would make me reconsider how I felt about certain characters or events in the show, taking myself down roads I had never wandered.
This one was recorded at the Twin Peaks UK Festival. I had lots of fun teaching Frank and Alan how to talk backwards and it was great to have a proper red room background.
I got the chance to spend an entire day on this. I wanted to create more of a short film and explore the story of how Mike took off his arm so I took myself off into a sweltering Crane Park to film. I added the voice-over later that night. This was the largest quantity of backwards talking that I attempted in the whole year.
This was one of the very last ones I recorded and I love it because it really made me feel like I was in the show. I went into Crane Park after sunset to film and it was so dark. I used a particularly grim episode from Laura's secret diary for inspiration which only made the atmosphere even more eerie. I was hearing the music in my head the whole time I was in there.
Hopefully Richard's What the Haiku! challenge inspire you to write your own Twin Peaks haiku. Do share yours in the comments!