Welcome to Twin Peaks launched on January 20, 2011. Not coincidentally on David Lynch's birthday and about 20 years after I was exposed to Mark Frost and David Lynch's legendary show for the first time in my life.
Twin Peaks is not a fiction. Therefore, Twin Peaks will never end. Look around. Look within.
—Michael J. Anderson, in a comment on the Welcome to Twin Peaks Facebook page.
Encouraged to reignite the fading conversation among fans, and inspired by the show's ever-growing influence on today's art, fashion, music, film, television, design or just about any other aspect of popular culture, Welcome to Twin Peaks aims to demonstrate that even though more than two decades have passed, Twin Peaks is still relevant. Maybe even more than ever.
Twin Peaks wasn't my first encounter with the work of David Lynch. As a 5-year-old, I was mesmerized by the haunting trailer of The Elephant Man. I watched it over and over, as much as I could. But it was the television drama he created with Mark Frost that drew me into the wonderful and strange mind of the Missoula, Montana-born Eagle Scout. Hence, Welcome to Twin Peaks is not exclusively about the Pacific Northwestern town we all love to revisit, but a portal to the artist's entire oeuvre. In this fan community, there's always David Lynch in the air…
See ya later, percolator. And keep the fire burning!
—Pieter Dom*
PS: If you want to learn more about my everlasting obsession with Twin Peaks, please refer to Dr. Jacoby. He has all my tapes.
"I'm always excited to come across Peaks-related news or projects from former cast members. If you feel the same way about the David Lynch drama, I highly recommend you bookmark Welcome to Twin Peaks." —USA Today / Popcandy
"The website Welcome to Twin Peaks has become a personal favorite site for me, bringing me fresh news and exciting Twin Peaks related stories to a TV series that has been off the air since 1991." —Bloody Disgusting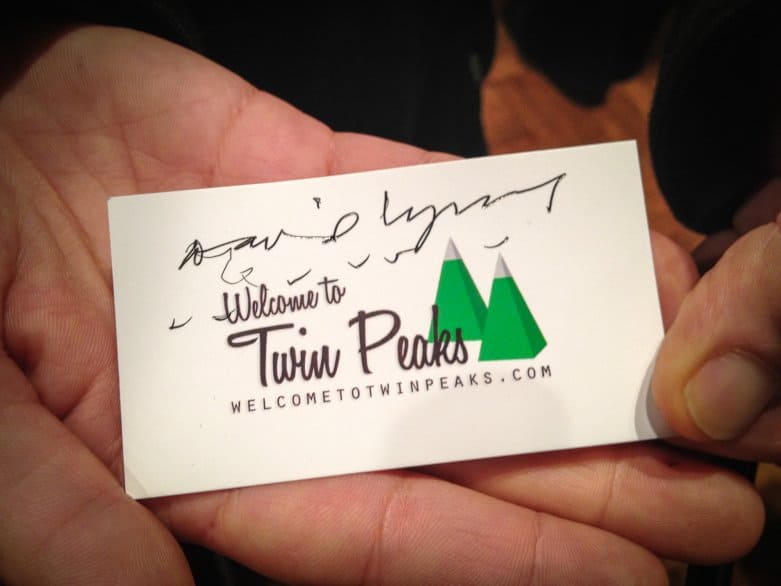 *Pieter Dom is a New York City-based social media and community massager, content hacker, photographer, and blogger since 2001. He owns approximately 606 t-shirts, and yes, about two dozen of those are Twin Peaks-themed.
Pieter Dom is a participant in the Amazon Services LLC Associates Program and Amazon EU Associates Programme, an affiliate advertising program designed to provide a means for sites to earn advertising fees by advertising and linking to Amazon.com, Amazon.co.uk, Amazon.de, Amazon.fr, Amazon.it and Amazon.es. Additional links are monetized by VigLink. Please also refer to this site's privacy policy.