Albert has never been to Twin Peaks??
"We are like the dreamer who dreams and lives inside that dream." 
"I was was worried about today because of the dream I told you about"
"but who is the dreamer?"
"Who do you think that is there?"
Topic starter
Posted : 14/08/2017 2:02 pm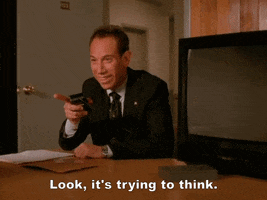 Posted : 14/08/2017 9:32 pm
Dale Cooper: Well if you don't want two black eyes on a regular basis I would suggest you make some kind of peace with rural life. 
Albert Rosenfield: Great. After the square dance, maybe we can all take a hayride.

It will not be "it never happened, it was all a dream." D. Lynch doesn't do such cliches.
Indeed!
(that would be pretty much the only ending I would NOT accept)
Posted : 16/08/2017 3:26 am
Same here. And Twin Peaks as a work of (TV) art is so much more than 'Who killed Laura Palmer', Tim. To me it is about the battle between Good and Evil -and dreams and reality- that every generation has to deal with ('I'll see you again in 25 years'). Dreams are how our minds and subconsiousnesses put the pieces together, so this is also true for the Blue Rose dreamers. 
Posted : 16/08/2017 3:50 am
Thats cool William : ). To me it's a creepy soap opera murder mystery done to perfection by being completely imperfect.  Amazing soundtrack music that puts you in another world. Character depth that is untouchable(Josie Packard) even by today's standards and ideas that come from another time and place.
"Look, It's trying to think" : (  lol I literally snotted all over myself the first time that aired.
Anywho it's not like if it was all a dream "it never happened." That would just be poopy. We all live inside a dream.  So of course it happened.  I just think if the ending to this incredible series
was secretly filmed 25 years ago
in the same format as the original Twin Peaks
ohoooooooo that would "really be something wouldnt it!"
Topic starter
Posted : 16/08/2017 5:01 am
Dreams are integral parts of David Lynch' mysteries: his movie Mulholland Drive is 50% reality, 50% dream. Heck, his debut Eraserhead (1978) is one big nightmare. His dreamy coping style with becoming a father. 
Posted : 16/08/2017 5:41 am