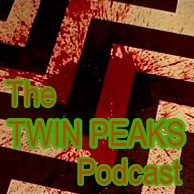 The third edition of the Twin Peaks Podcast is out, covering the 3rd episode "Zen, Or The Skill To Catch A Killer" (better known as: the one with the dream sequence) in nearly 75 minutes.
The gang is joined by Alirio from the Potentialcast, the podcast that inspired them to create their own, as they tackle the third episode of the Twin Peaks series and things begin to get weird for agent Cooper.
Twin Peaks Podcast #3
» Join the Twin Peaks Podcast group on Facebook.
» Subscribe on iTunes or via RSS.