"The stars turn and a time presents itself."
—The Log Lady
In 2015, our Twin Peaks family lost one of its dearest members, Catherine E. Coulson, just shortly after she filmed her final scenes as Margaret Lanterman aka the Log Lady, together with her longtime friend, David Lynch.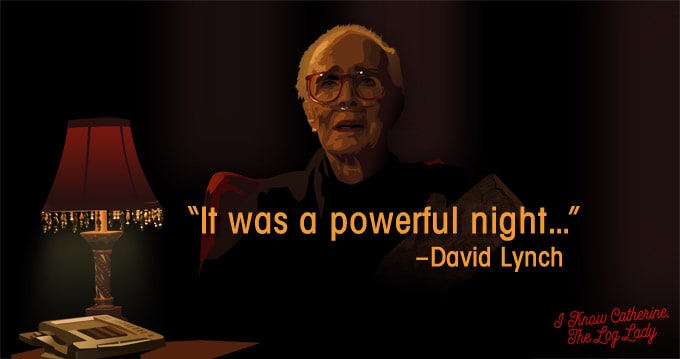 Today, I'm gonna let you in on a little secret!
The past few months, I have worked hard on hands-down the most beautiful Twin Peaks project I've ever been able to contribute to.
With David Lynch's blessing, a small team of independent filmmakers led by Richard Green (the Magician in Mulholland Drive and executive producer on David Lynch Presents: I Don't Know Jack), is making a feature length documentary on Catherine E. Coulson. Aka Cathy. Or Cookie! Together with her family and closest friends, we have gathered incredible footage and mementos from her childhood, her career as an actress on stage at Oregon Shakespeare Festival, and on screen, as well as her work as one of the first women behind the camera.
We can't wait to blend all the material into a wonderful film tribute to Catherine, but we really need help from everyone who was ever inspired or touched by her performances, from everyone who ever met her and had the same feeling so many of us share; that she made you feel like you were her best friend.
Please check out the video to find out more about how you can join this journey. And I have a definite feeling you will find some of the rewards for supporting this film both wonderful and strange!
Thank you!